The Municipal Manager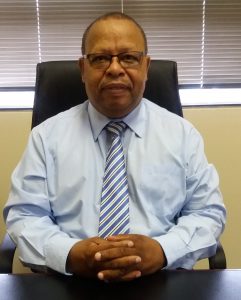 Dr. E.M. Rankwana
Contact details: 
Landline : 049 807 5778
Email:  mmoffice@bnlm.gov.za
Short Summary
Dr Edward Martin Rankwana obtained his Philosophiae Doctor  at the University of Free state in 2017 and has various Local Government experience , including many conferences attended local and  abroad in Australia , New Zealand and Brazil, where he formed part of studies group from the Gauteng Province to investigate and analyse local government systems in Australia and New Zealand in 1998.  Attended conference in Brisbane Australia and Auckland New Zealand.  Visited and Australian parliament in Canberra.  The resultant report emanating from our study tour to these countries contributed in a small way towards the development of the White Paper on Local Government.
 Formed part of delegation from the Kouga Municipal to investigate and analyse the local government health system in Brazil in 2010.
Attended numerous conferences in South Africa.  This included Institute of Municipal Finance Officers Conferences as well as conferences arranged by the South African Local Government Association.
Vision :  A responsive, developmental and unifying Local Government providing quality services to its citizens in a safe, healthy and well-managed environment, with equal opportunities for all.
Mission : Dr Beyers Naudé Local Municipality will give credence and effect to its Vision Statement through the following Outcomes-based commitments :
– Fully institutionalise and apply the Back-to-Basics principles,
– Deliver quality services and ensure that all households have access to basic services,
– Create an environment that is safe, healthy and conducive to socio-economic growth and development,
– Effectively manage and protect our human capital and natural resources,
– Manage our finances and administration effectively and transparently,
– Keep the public informed and involved through efficient communication and public participation programmes,
– Address service backlogs, whilst diligently maintaining Municipal assets and infrastructure,
– Be instrumental in improving the quality of life and livelihoods of our people by building cohesive and flourishing societies.